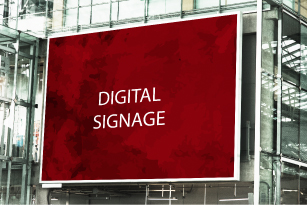 In this digital era where purchasing habits are changing and consumers are becoming more technological oriented, digital signage has become a trusted source of information used by consumers to choose what to buy and where to shop.
Digital signage is an electronic sign used to convey information to audiences and customers. It uses an LCD, LED, or projection screen to display information that educates, engage, inform, or entertains nearby viewers.
Why Digital Signage Solution in 2021?
Smart brands are shifting to digital platforms as the commercial environment takes a new shape. Since digital signage is an effective yet inexpensive way of engaging your clientele, there is no better way to use technology to benefit your small business.
Many companies have already adopted digital solutions apart from traditional formats due to several reasons. So, if you are wondering whether digital signage is for you, here are reasons why you need it:
 1.  Attention-grabbing display
Digital signage has grown over the years mainly because of its effectiveness in grabbing customer's attention. Survey has shown that videos and pictures attract the human eye more than any form of media. Combined with appealing content, it keeps your customers engaged as you update them with your product and services.
If you want to be noticed by customers, start by using Taggio digital signage
2. It's Affordable
Digital signage is very easy to update. This is a better and more affordable option than print out information. It is one of the most efficient and affordable ways to update content.
You don't have to spend a lot to use electronic signs to your advantage. You can start by setting up a television which will keep customers occupied. Before displaying digital signage, make sure it has the right content for your target market.
3.  Improves social engagement
Social media has proved to be a powerful marketing tool and an effective way of interacting with a customer most conveniently.
Simply indicating your social media account in your digital signage, can help to improve engagement. Use hashtags that your followers can use. This helps to reach more customers especially if you display positive comments from your followers. Visitors may then become more interested to follow your account, use your hashtag or mention your brand.
 4.  It can collect data
Interactive digital signage can collect data that will aid future marketing endeavors. If you own a restaurant, it can help you showcase your menu. Also, any business can launch a new cosmetic product using digital signage. You can also interact with fans using this display, by asking questions.
5. It reduces wait time
By using digital displays in your, you can entertain customers or provide more information about your product or business while waiting for their turn. Show something interesting on your screen not just to relay something you want them to know but something that they want to see.
Hence, the question you have to ask yourself is – why aren't you using digital signage as part of your marketing strategy? Digital signage can be used across a variety of customer touchpoints, and its applications are almost endless.  Hence, it remains crucial in conveying essential information.