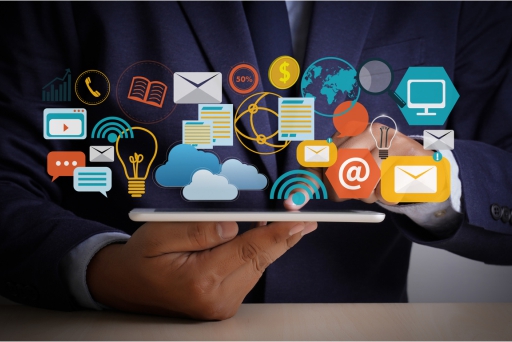 Marketing is an important aspect of a business. It covers advertisement, dissemination of information to customers, and building a solid brand image.
Before now, marketing was carried out through channels like print, media announcements, posters, and billboards. However, the world is evolving and the advent of the internet and social media has created limitless possibilities for marketing through digital marketing.
Digital Marketing offers a means of bringing your business closer to your customers. In this article, you'll learn all you need to know about digital marketing and why your business needs it.
What is Digital Marketing?
Digital Marketing involves marketing on the internet through channels like search engines, emails, and social media to promote businesses and attract customers. It also uses traditional channels like mobile phones and televisions that provide digital media.
It helps businesses connect to a larger audience and target a specific demographic who are most likely to be interested in their solutions by increasing brand awareness.
Brand awareness on the other hand is the extent to which customers and the general public perceive, recognize, and identify with a business. It's directly related to a customer decision-making process because it's the main factor that the customer considers-the image of your brand in their mind – before making a buying decision.
Digital marketing focuses on brand awareness for two main reasons:
Rate of online shopping
The rate of online shopping has increased enormously, with studies showing that about 2.14 billion shoppers now buy items online.  A survey carried out on digital shopping channels also showed that 82% of shoppers went for brands they already knew about.
Social media influence
According to Statista, 4.62 billion people around the world (58.4% of the world's population) use social media for an average of 2 hours per day. 74% of users follow brands on social media, and 96% of them interact directly with these businesses.
47% of people factor their interactions with a brand on social media in their purchase decision, while one in three people are influenced by social media when buying a product.
By building brand awareness, digital marketing forms meaningful interactions with existing and potential customers and keeps your business in their minds when the customer is ready to make a purchase.
Compared to traditional marketing methods, digital marketing is more cost-effective and efficient. It also allows businesses to measure and monitor the success of their marketing strategies.
Why Do You Need Digital Marketing?
Businesses need digital marketing to reach their target audience quickly, increase the visibility of their brand,and help to build solid brand equity.
Here are other reasons why your business needs digital marketing.
1.   The modern consumer is becoming more digital
The modern consumer is shifting towards a digital experience when it comes to making purchases. Many people prefer to research online about what they intend to buy before making a purchase.
Regardless of whether the consumer is ready to buy or not, digital marketing helps to influence their decision by supplying the consumer with the required information either through search, blogs, or social media.
2.   It eases the tracking of marketing campaigns
Digital Marketing makes it easy to track the success of your marketing strategy and helps to identify what is working for your business and what isn't.
Based on this information, you can accurately measure your return on investment (ROI) as well as identify areas of improvement. This helps you work towards creating more successful tactics to get more out of your marketing budget.
3.   It provides an interactive experience for customers
Digital Marketing can help you to provide a more personalized experience for your consumers through specifically-tailored product recommendations, interactive video ads, and personalized emails.
Shoppers are more likely to buy from a brand if they are given a personalized shopping experience tailor-made to their demographic. By creating an interactive experience for your customers (existing and potential), you increase your chances of being contacted for future business deals.
4.   It helps you improve customer relationship
Unlike traditional marketing methods, digital marketing is a two-way strategy that encourages feedback from customers. This means that customers can communicate directly with the brand through avenues like social media or emails and have their issues addressed promptly. This helps to build and maintain a good relationship between a brand and its customers.
5.   It complements traditional marketing methods
While traditional marketing methods target a large, general audience, digital marketing targets a more specific audience and informs them. Hence, digital marketing complements traditional marketing methods
Moreover, some people respond to one marketing method better than the other, so using the two methods side-by-side will maximize your reach and strengthen your marketing strategy.
Components of Digital Marketing
Digital marketing deals with all online marketing strategies and methods, therefore it has must-have components. These components are varying aspects of digital marketing and can be implemented alone – independent of a digital marketing strategy.
Here are some important components of Digital Marketing:
1.   Social Media Marketing
Social Media Marketing entails all marketing tactics and strategies that are executed on social media platforms. This technique helps to build brand awareness, drive website traffic, and increase sales. Through social media marketing, a business can engage with existing customers and draw in new ones.
2.   Content Marketing
Content Marketing is a marketing strategy that attracts, engages, and maintains customers by creating quality content such as blog posts, articles, videos, podcasts, and other forms of media — depending on the target audience and their needs.
Content marketing is a long-term strategy that aims to create a strong, long-lasting relationship with your (existing or prospective) customers. It helps to increase brand awareness, expand the customer base, attract attention, and engage a community of users.
3.   Mobile Marketing
Mobile Marketing is an online marketing strategy that focuses on promoting products and services through a mobile device. It is a multi-channel technique that reaches a target audience on their phones, tablets, laptops, smart watches, or other devices through a website, SMS, MMS, social media platforms, or mobile apps.
Mobile Marketing is specially adapted to provide customers with information, promotions, or advertisements that are sensitive to their time and location. This ensures that they get the information they need when and where they need it.
4.   Email Marketing
Email marketing is a marketing campaign used by businesses to promote events, steer customers to the business website, as well as deliver content or pass important information. Contrary to popular belief, email marketing is still a popular and effective way for a business to keep in touch with its customers.
Emails sent as part of an email marketing strategy must fulfill five core attributes: trustworthiness, relevance, conversational, strategic, and coordinated across channels.
5.   Search Engine Optimisation
Search Engine Optimisation is the optimization and technical setup of a website and its content to make it rank high on the first page of a search engine for a specific word or set of words known as keywords.
Implementing an SEO strategy helps to increase organic traffic to your website. i.e. it helps to increase the number of people who visit your site per day purely from search engines. It also increases your visibility and builds brand awareness which would help to create a strong and long-lasting customer relationship.
Here are some of the most popular and most effective SEO techniques:
On-Page SEO: This deals with the content on your website page. An example is optimizing your website to rank for keywords.
Off-Page SEO: Off-Page SEO deals with activities that take place away from the page when optimizing your website, like backlinks and authority building for your site.
Technical SEO: This SEO strategy focuses on the backend of your site — how your website is coded. CSS file optimization, structured data, image compression, and robots.txt files are aspects of technical SEO that increase your website's loading speed and improve its ranking.
Digital marketing encompasses all the above components and uses them in different ways, according to the needs of a business
How to Create a Solid Digital Marketing Strategy for your Business
An excellent digital marketing strategy provides a plan for establishing an internet presence through various online channels such as social media, organic search, paid ads, and your website. As such, you must take your time drafting your strategy to ensure it is detailed and fit for purpose.
Here are a few tips to help you get started.
Identify your business needs
You must align your business needs with your digital marketing strategy to gain optimal success. Start by conducting in-depth research to determine significant details like your core audience, value proposition, and competition.
To help you identify your brand needs, you might need to ask yourself pertinent questions such as:
Does my business offer a product or service?
Does my business serve consumers (B2C) or businesses (B2B)?
Do I have a marketing budget?
How long have I been in business?
Does my current marketing strategy target the right audience?
What is my brand identity?
Define your target market
Once you've identified your business needs, the next step is to identify your target market, that is, the groups of prospective customers that your products or services will appeal to. The best digital marketing strategies are built upon detailed, carefully organized buyer personas.
For any marketing strategy – digital or traditional, you need to know who you're selling to. Consider segmenting the groups by demographic features such as gender, age, marital status, education, and income, and psychographics like interests, lifestyle, and hobbies.
You may need to conduct market research through surveys, focus groups, or interviews to create the perfect buyer personas. It is important to note that this information should be based upon real data whenever possible, as making assumptions about your target audience can negatively impact your marketing strategy.
Properly position your product or service
Once you've defined your target audience, the next step is to differentiate your product or service from your competitors, who may range from start-ups to big companies.
Make a list of your main competitors. What strengths and weaknesses do you have compared to these other businesses? What makes your product or service unique? Whether it is fast service delivery, quality products, customer support, location, or pricing, identify what makes your value proposition and use this to position your brand.
Identify your marketing goals
You've identified your business needs, defined your target audience, and positioned your service offering, now you must set specific marketing goals tied to the fundamental goals of your business.
For example, if your business' goal is to improve online revenue by 20%, your marketing goal might be to generate 50% more leads via your website and other online channels. In addition to setting a digital marketing goal, you should also identify a means of measuring the success of your strategy so you can determine what works and what doesn't.
Carry out your plan
After creating your strategy, you need to prepare a marketing plan and timeline for execution. As a business owner, you may not have the time or expertise to execute your digital marketing strategy. In this case, you may consider outsourcing the task to a professional digital marketing agency that is properly poised to help you execute the campaign.
What Does a Digital Marketing Agency Do?
A digital marketing agency is an agency that helps businesses to reach their marketing and sales goals as well as interact with their customers. They do this by implementing multi-channel online strategies designed to increase their brand awareness. Usually, a digital marketing agency does not offer traditional marketing services.
Digital marketing for B2B and B2C businesses
Digital marketing methods work effectively for both B2B and B2C businesses, but usually, the methods used will differ between the two. The aim of most B2C companies is usually to get as much traffic to their website as possible. Consumers make quicker purchase decisions, and they may even make a purchase the first time they visit a website.
However, this is in stark contrast to B2B businesses. For B2B, transactions often take a long time and require consistent efforts to reach key decision-makers, build up a level of trust and propel them to close a deal.
Due to the different forms of audiences B2B and B2C businesses attract, digital marketing practices adopted for both will definitely vary. For instance, the category of keywords used for things such as SEO will be different and need to be streamlined and personalised to suit the target market.
Determining your digital marketing budget
To get the best out of your digital marketing plan, you must have a budget commensurate with your efforts. The trick here is deciding the amount you are willing to spend to achieve your goals.
Below are some budgeting methods that may prove useful.
Affordable Method
This is the easiest method of budgeting. You simply need to estimate how much you can afford to spend on digital media. Nothing overboard, just a rough, subjective estimate. While this method cannot be called scientific, it's a good method for startups that are just venturing into digital media for the first time.
Percentage of Sales Method
In this method, a percentage of the previous year's sales is allocated to digital media. It is advised that 10% of sales be earmarked for your total marketing budget.
Competitive Parity Method
As the name implies, this method involves estimating what your competitors are investing in digital marketing and trying to match that number. However, this may not be an advisable method to adopt as it places you under unnecessary pressure.
Objective and Task Method
Here, you determine your objectives through detailed market research and decide how much you need to spend to achieve those objectives. This is by far the most logical method of budgeting for digital marketing; however, small businesses and startups might not possess the resources to carry out the research necessary for this method
Final Words
Now that you know why and how digital marketing can help your business, waste no time infusing it into your business to start reaping the excellent dividends! At Tezza Business Solutions, we offer bespoke digital marketing solutions tailored to different business needs.
Our vast experience, which covers a wide range of industries from health care to real estate and the tech space, equips us with the right knowledge and skills to implement the most productive techniques that will enhance your business performance. If you have any questions or business challenges, we are readily available to assist you.